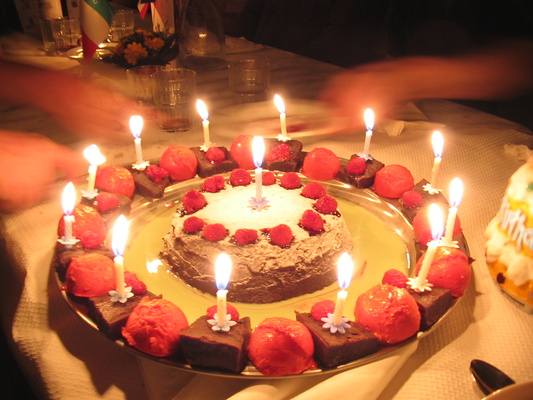 Two days ago was my birthday.
Since I'm not in Pekanbaru, there's no birthday dinner at home or out with my family to our favourite Chinese restaurant (berlebihan sih klo bilang restoran, rumah makan biasa kok tp whiiiy enak kali)
And since I'm not in Bandung, there's no midnight surprise (yea, right) visit with fancy cakes from my friends. Or anything like
this
.
I'm in different country now. With different circle of friends. I don't think anybody will do the surprise visit (with this cold weather? neaahh). Also because of the living condition. Some students live in a housing building with automatic security that prevent them to have access to people's floor without the owner's consent. So, people tend to have a planned party. That's what I had last year. Cooking and having dinner with a small group of friends, but days after the real birthday because of exams, haha.
No, I'm not being bitter or something :D It's just different and still enjoyable.
This year, my birthday was on Wednesday. That's Krashna Musika's regular rehearsal day. So I came to the Cultural Center, bringing a bag of chocolate with cream filling (don't know the name), marshmallow, Engelse drops, Salted Cashew, and Choco pindas (kacang salut coklat). I did that because that's what my Dutch friends do when they had their birthday :D Then during the break, they sang the Dutch Birthday song.. (ya, "Panjang umurnya.. panjang umurnya.. blabla berbahasa Belanda) completed with the "Hip hip Huraa" thing (Imagine around 50 singers sang together :D)
Of course receiving messages through friendster, facebook, multiply, plurk, sms, call, and whatever else definitely brightened up my day too. I really loved that.
Today, in church choir practice, I received a chain of birthday songs sang in Indonesian, Dutch, Portuguese, Rwanda, and Italian. That was wonderful, I should've recorded that, haha.